12 Beautiful and Cheapest Places to Visit in Florida
When budget travelers close their eyes and imagine a water paradise, Florida comes to mind. Can you argue with me on this? Many travelers choose to visit Georgia, but before making your destination choice, let's consider the pros and cons of Florida and Georgia.
For me, it's always Florida. Soft sand, blue waters, small fishes, and tanning under the sun, maybe even going nude – yes, it's the Instagram-perfect Florida life. I guess, it's better for you to also know what are the pros and cons of retiring in Florida for better understanding.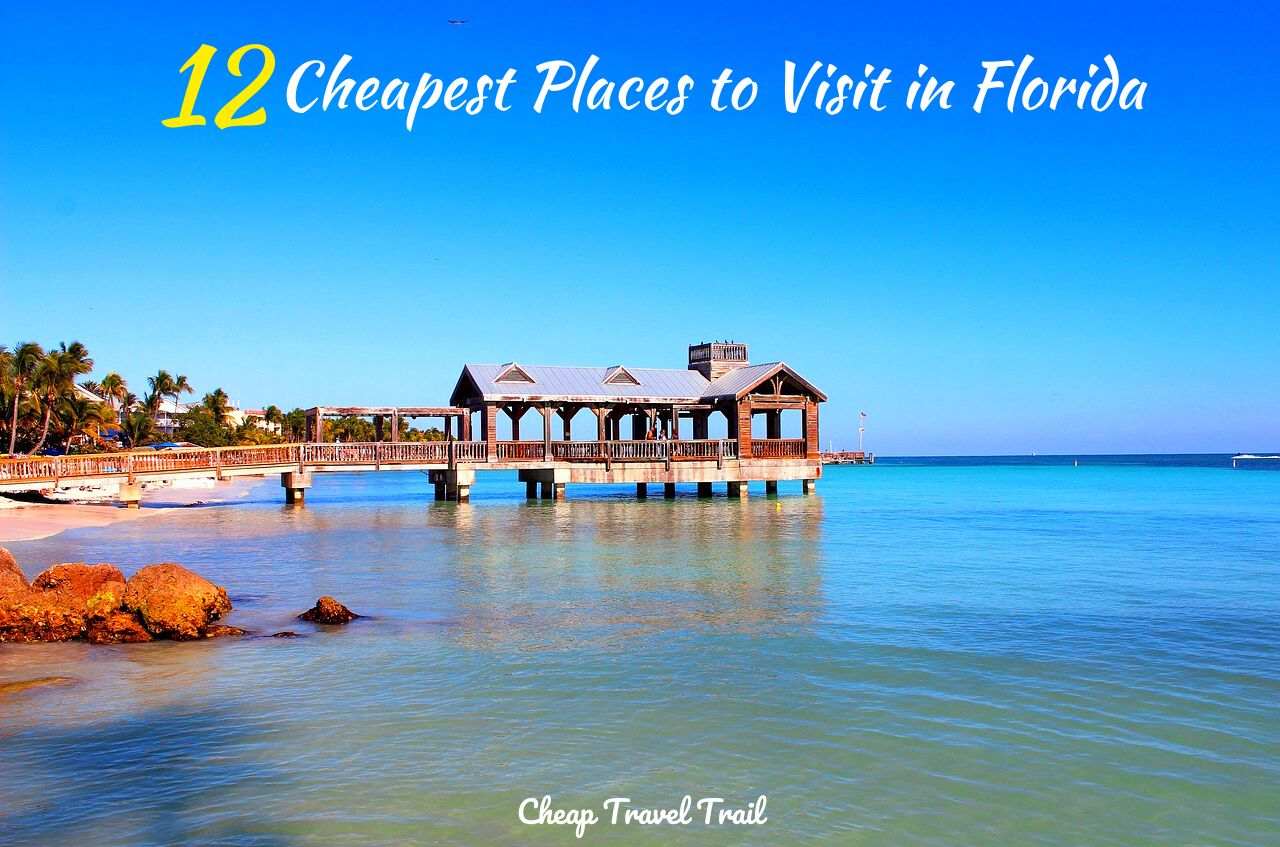 This post may contain affiliate links. If you buy something through one of those links, you won't pay any extra penny, but I'll get a small commission that encourages me to deliver more helpful content for you.
So, here, I welcome you to my place, taking you around the cheapest places to visit in Florida that are bound to give you peace and cause no financial stress. Don't skip checking out the budget-friendly places in Florida for couples!
Hence, budget travelers who are looking to explore the East Coast of America, welcome to my blog. You can also find some safe and affordable places in Florida if you plan to move in.
Let's begin!
Table of Contents
Cheapest Places to Visit in Florida
Value-for-Money Florida Travel Destinations 
1. Little Talbot Island
Fee: Cyclists pay $2 whereas per-vehicle parking costs $4
Have you ever wondered about taking the less traveled road to reach a hidden beach in Florida at an inexpensive price? Come to Little Talbot Island.
It is a coastal forest in Northeast Florida. I visited this place with my friend Soniya for camping and quickly discovered that it's one of the hidden gems!
Little Talbot Island is separated by a marshy backcountry and is an undeveloped barrier island just a few minute's drive from Downtown Jacksonville.
The off-road 4-mile trails to reach here are sure to take your breath away in a good way. You'll pass through moss-covered live oaks, tall pines, dunes, and woodlands.
The white sand and the view of Little Island meeting the Fort George Inlet against the crashing waves is so thrilling that you'll feel like jumping into the water.
But, hold on…swimming is prohibited at Little Talbot Island. No worries, though; there are splendid things to do! I recommend coming with your family for an enjoyable lunch session.
Affordable things to do at Little Talbot Island:
This affordable Florida destination is a haven for wildlife photographers and nature lovers. Spot rabbits, armadillos, bobcats, deer, colorful birds including Black Skimmers, and Wilson's Plovers
Come to the hammock campsite and immerse yourself in the Floridian wilderness, where urban sprawls have yet to encroach 
Come to see Boneyard Beach and take pictures with the bleached live oaks' bones
Capture Instagram-worthy moments at Blackrock Beach while describing it as "the world's most ancient rock formation location"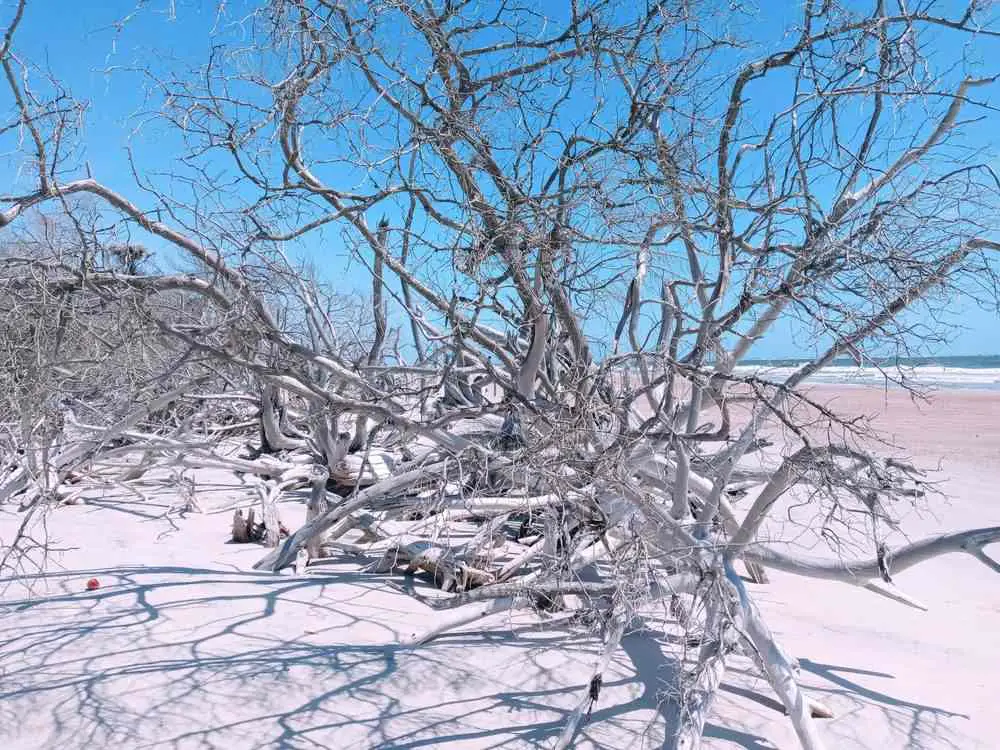 2. Venetian Pool
Address: 2701 De Soto Blvd, Coral Gables, FL 33134, USA
Fee: $21 for non-resident adults and $16 for non-resident children
I know you dream of visiting unique yet economical places in Florida, so here I am to take you to one of the oldest swimming pools that feels no less than a paradise!
Firstly, the neighborhood around Coral Way is so fascinatingly designed with banyan trees, old public buildings, stores, and museums that you'll feel so blessed to be there.
Venetian Pool, inaugurated in 1924 follows the Mediterranean Revival architectural style of Venetian and was designed by the artist Denman Fink.
Interestingly, my mother used to say that the most remarkable feature of the pool was the ability of certain gondolas to detach from a small per and sail upon it. 
However, when I visited, restoration work had been completed, and I couldn't find what my mother had mentioned. 
It's worth noting that the pool earned its place in the National Register of Historic Places. The place is beautiful and every swimmer should experience it.
Presently, the water comes from an underground aquifer and undergoes daily refilling with an impressive 820,000 gallons of water.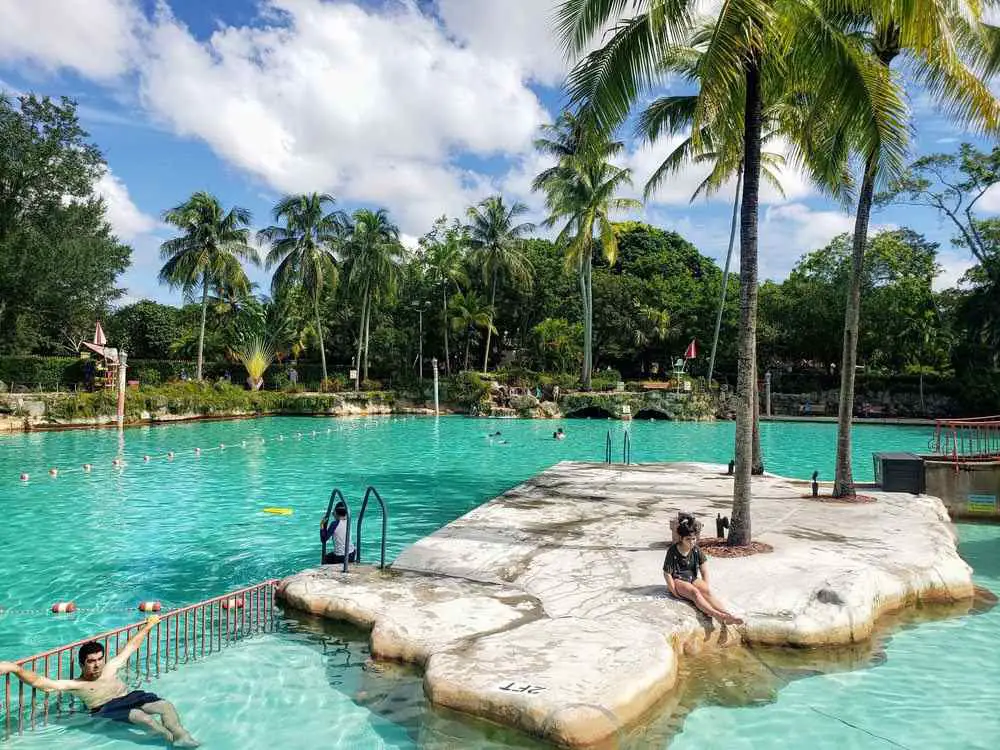 3. Homosassa Springs Wildlife State Park
Address: 4150 S Suncoast Blvd, Homosassa, FL 34446, USA
Fee: $13 for adults and $5 for children
With just one tank of gas, you can reach this wonderful yet low-cost Florida travel spot with your child, where you can spot sea cows and hippopotamuses.
Did you know this State Park is also called Ellie Schiller Homosassa Springs Wildlife State Park and has been featured in many Hollywood movies?
This spot is a great weekend gateway from Orlando, allowing you to enlighten your child's general knowledge about animals by showing them the lives of black bears bobcats, American alligators, red wolves, flamingoes, Key deer, and more.
The most attractive feature of the State Park is the "Fish Bowl" where you have the chance to watch incredible underwater schools of fish.
Another interesting thing to note is the underwater walk tour that I believe you'll be fascinated to take. This is indeed one of the "most beautiful rivers and springs in the world".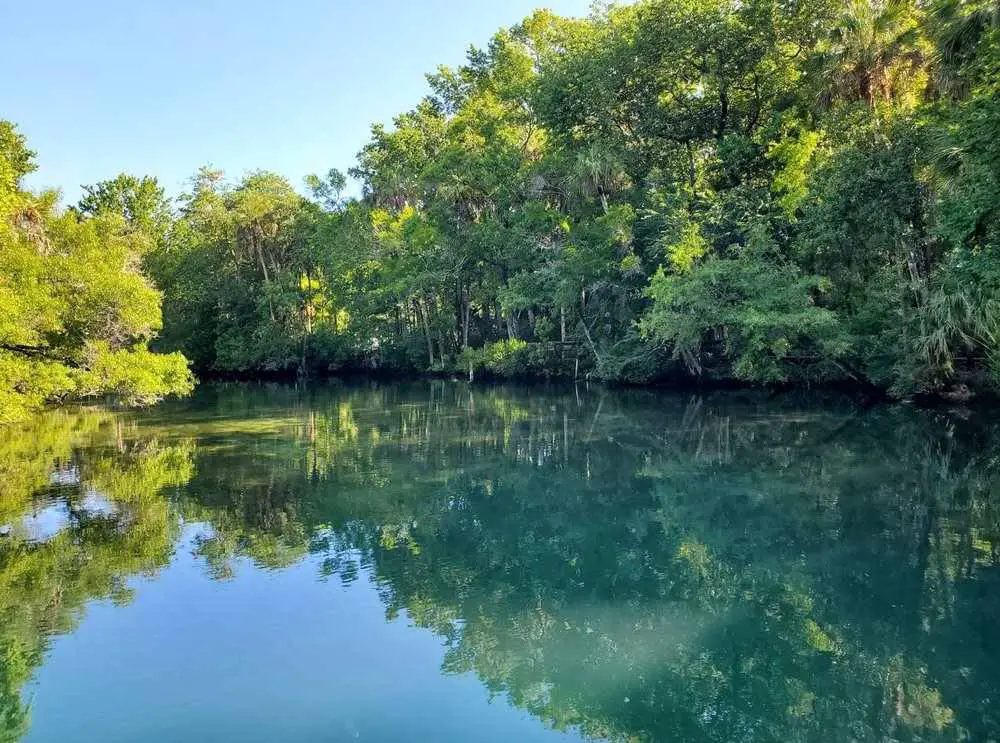 4. Rainbow Springs State Park
Address: 19158 SW 81st Pl Rd, Dunnellon, FL 34432, USA
Fee: $2.00
If you're in search of the best inexpensive ideas in Central Florida, I believe Rainbow Springs State Park is the ideal place to come with family or friends.
It is the only State Park in Florida that boasts natural waterfalls and is considered one of the finest freshwater springs, featuring three man-made waterfalls as well.
Visitors adore activities like swimming, paddling, hiking, and river tubing, and, yes, you can bring your dog along. 
I cherish the atmosphere here; it's lush and adorned with magnolias and flowers. I've visited here almost a dozen times.
You could say it's one of my go-to summer camping destinations. If you're planning to do the same, make sure to book your spot in advance.
If you're visiting during the winter, I recommend hiking to see the azaleas. During this season, the hills are covered in grass, making it a fantastic time for picnic and snack enjoyment.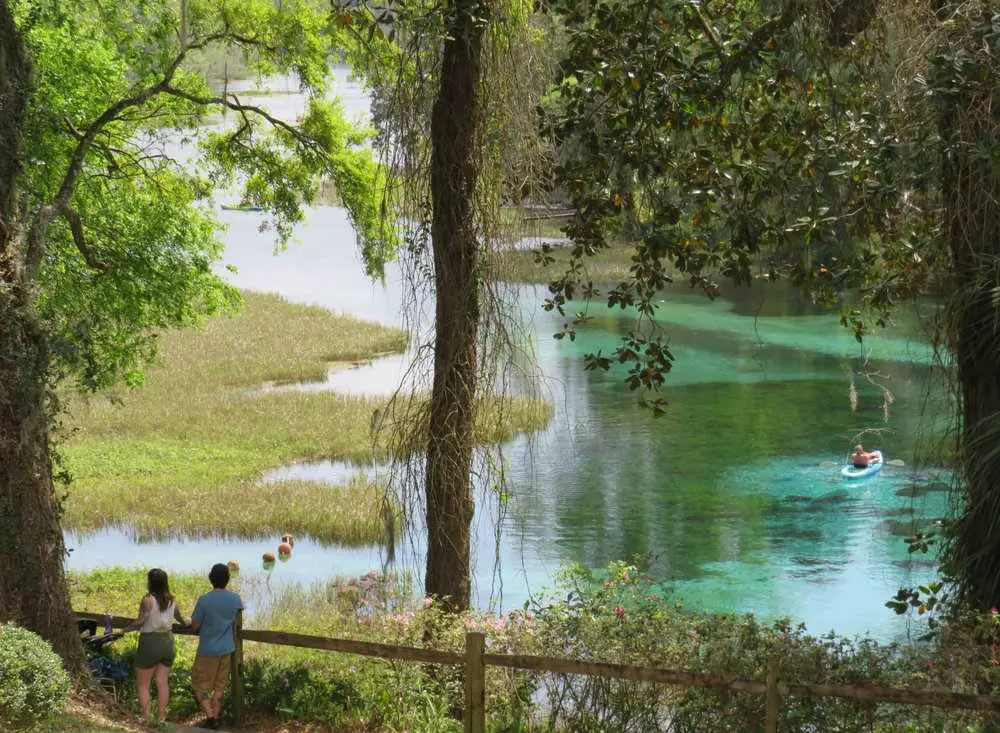 5. Pass-a Grill Beach
Address: South of St. Pete Beach
Pass-a Grill Beach is one of the budget-friendly unspoiled Florida vacation spots which actually is a charming beach town in Florida. 
So, is anyone up for a weekend plan? You'll love the blue-green water, soft white sand, the air of the Gulf, and three sides of water making you feel calm and peaceful. 
The cost of living of a single adult is around $35, 508, which is about the same as the annual cost of living in Florida you're here to enjoy days!
The beach and the water are so clear that you can put your feet and see into it. Sometimes dolphins and hermit crab can also be spotted.
The best part about Pass-a Grill Beach is the waves and cool atmosphere with no crowd. Did you know, the town earned the name of "Sunset Capital of Florida" in 2010? 
Affordable things to do at Pass-a Grill Beach:
Check out the pink birthday hotel – Don CeSar Hotel. I am sure you do not want to miss out on taking photos against the backdrop
Middle of the beach area, you should come to explore the small food cafes and restaurants
At the beach, you can try snorkeling or shelling if that excites you. Moreover, you should be at the beach during the sun setting to see the wonders of nature playing with its colors
In the morning, you can come to the beach for yoga, running, or some activities. No doubt, this place is sure to make you fall in love!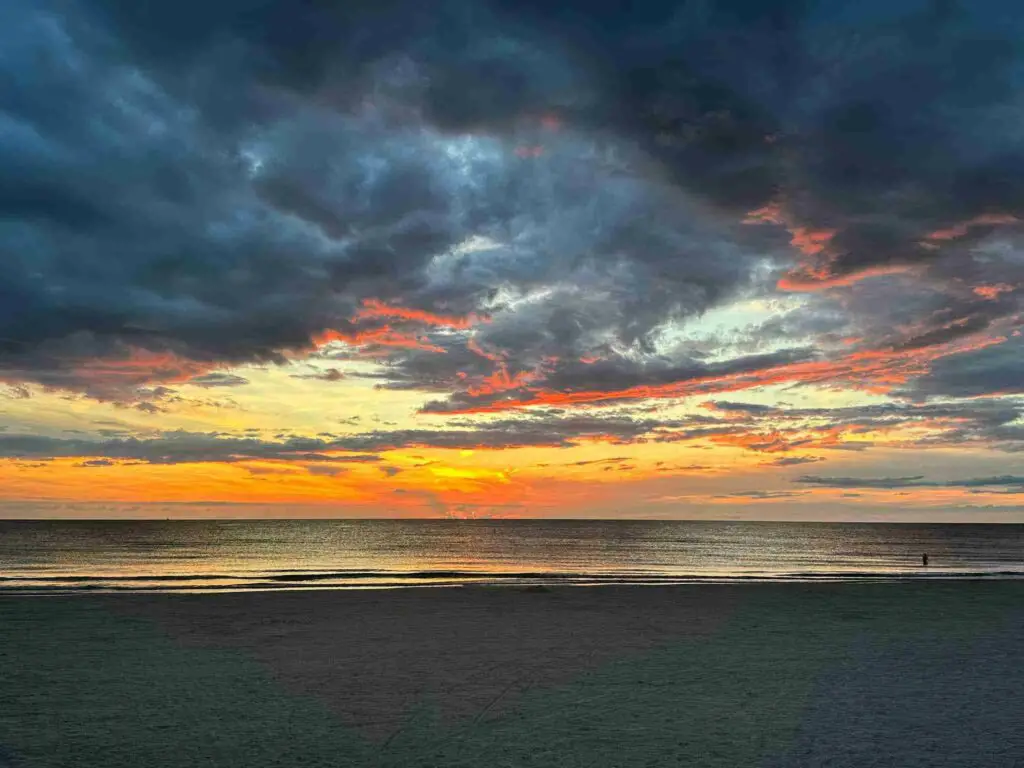 Cheapest Tourist Destination Spots in Florida
6. Flagler College
Address: 74 King St, St. Augustine, FL 32084, USA
Fee: $14 per person
Once, my friend Ruhia, who had come from Nepal, asked me for suggestions on places to travel in Florida with a budget of $20. My first recommendation was a tour of Flagler College near St. Augustine.
First, understand that it is one of the liberal arts colleges in Florida, just a few blocks from the Atlantic Ocean, and is also known as the Ponce de Leon Hotel. 
You'll be awestruck when you witness the 68-foot domed ceiling, 79 exquisite Louis Comfort Tiffany Stained Glass windows, murals, hand-crafted Austrian crystal chandeliers, and other treasures!
I highly recommend taking the guided tour, as it's an exciting experience that will transport you to a different era. 
The lobby feels exactly like the old Hollywood sets! The furniture, decor, paintings, room interiors, and color palettes are all unique.
I guarantee you'll be stunned after the tour guide. This is an affordable attraction in Florida which you should not miss out on if you love architectural designs!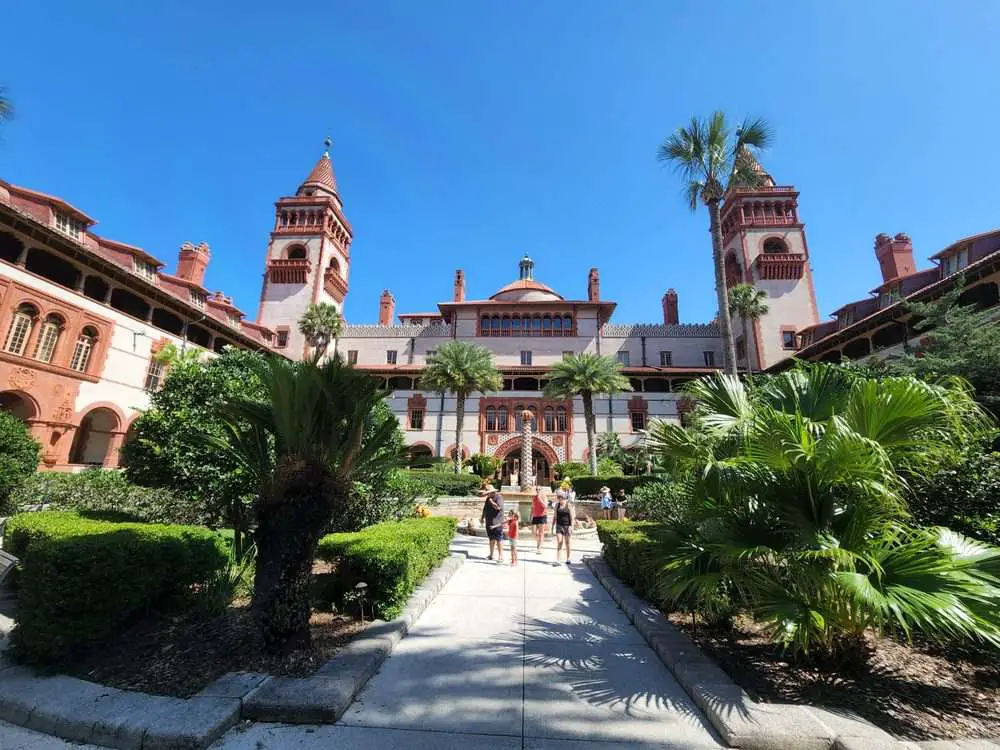 7. San Sebastian Winery
Address: 157 King St, St. Augustine, FL 32084, USA
If someone offered me free wine tasting and a winery tour at a premium winery, I would grab it as soon as possible. So, welcome to the Nation's Oldest City's home – San Sebastian Winery.
The winery boasts an impressive 18,000 square feet of space with a capacity to store 40,000 gallons of wine. They extend their hospitality with free tours and walk-in wine tastings available every day of the week.
For those interested in shopping for wine, wine accessories, or personalized gift baskets, the gourmet gift shop is conveniently located on the ground floor.
To elevate your wine-tasting experience, head upstairs to The Cellar Upstairs wine bar, where you can enjoy bottles, glass pours, live jazz, and a gorgeous view of the sunset.
A tour of San Sebastian Winery is one of the most romantic activities to enjoy with your partner at affordable rates in the afternoon or evening. 
You'll have the chance to taste six to eight different varieties of wine while watching videos showcasing the art of winemaking.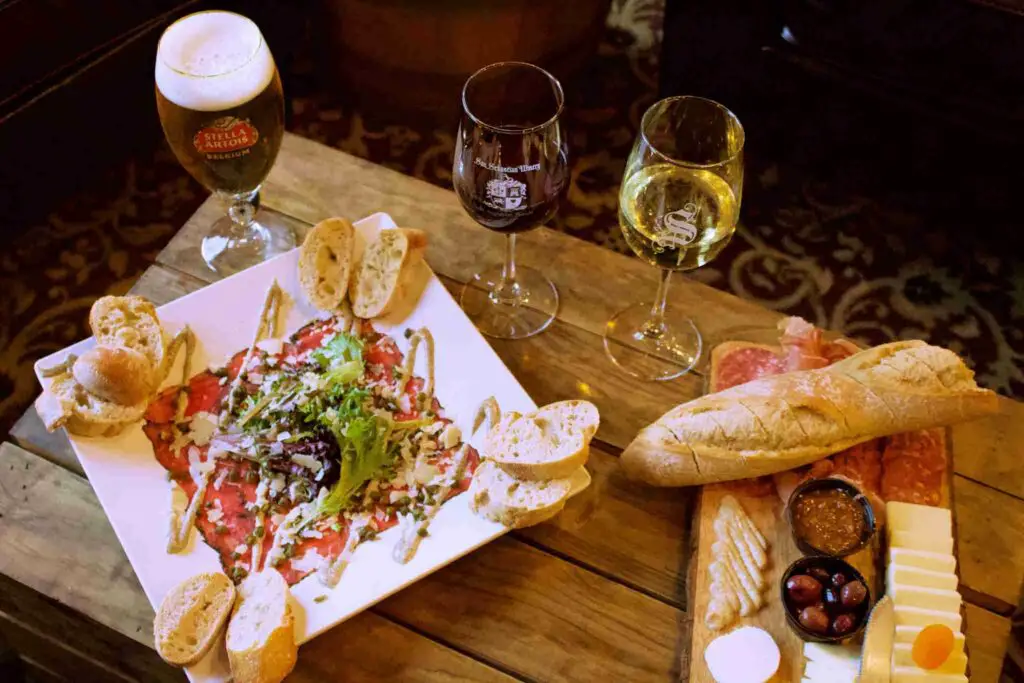 8. Koreshan State Historic Park
Address: 3800 Corkscrew Rd, Estero, FL 33928
Fee: $10 for adults
A 200-acre park, located just south of Fort Myers and north of Naples along the Estero River, is home to a religious community that believes "humanity actually lives on the inside of the Earth's shell."
Koreshan State Historic Park features 11 old buildings, remnants of Victorian gardens, and facilities for camping and canoeing. 
If you choose to explore the vast property on your own, whether it's the buildings, botanical gardens, or bamboo forests, it will indeed be one of the most economical tourist spots in Florida for you.
However, I would recommend taking a guided tour and camping here overnight by spending a few extra dollars. This will provide you with the opportunity to experience a unique RV adventure.
Affordable Beach Destinations in Florida
9. Dunedin
If you're on the hunt for an affordable family vacation place in Florida, let me introduce you to Dunedin, a charming town nestled across the bay from Tampa.
Seven-day trips that'll set a family of four back a mere $4,162. Now, that's what I call travel Florida on budget. But that's not the only reason to love this place.
Dunedin prides itself on its LGBTQ-friendly atmosphere, boating an array of clubs and restaurants that cater to everyone's needs.
But, that's not all. Dunedin is a treasure trove of playful fun activities and recreational opportunities. 
The town is also exceptionally walkable, making it an ideal destination for grandparents. Plus, it's conveniently close to the gorgeous Gulf of Mexico.
Affordable things to do at Dunedin:
Rent a bicycle and drive the popular Pinellas Trail
You can come with your family to Honeymoon Island as it is also home to a dog park
Start shopping from Farmer's Market. You'll get vegetables and fruits at budget-friendly rates
Try to come here in the month of June to attend the annual Dunedin Art Festival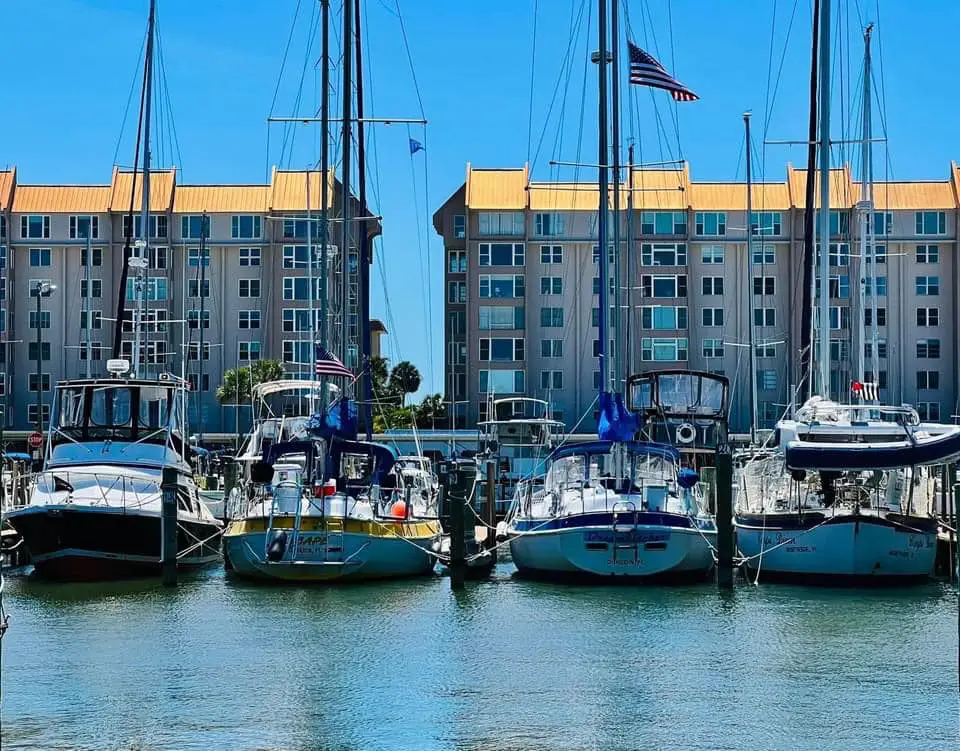 10. Venice
The South is comparatively a bit more expensive than the North; however, a round trip to Venice for a couple of seven days will cost you $3,115. Here, you can immerse yourself in the delightful Italian vibe!
I was here in winter, and I was pleased to witness the place entirely below the frost line. The lovely breeze from the water was so refreshing.
You'll love its Downtown- beautiful shops, small cafes, trees lined along the streets, and welcoming smiling faces of people. 
Hence, if you're the one looking for cheap weekend getaways in South Florida, I would definitely recommend considering this place to enjoy its vibe!
Venice is blessed with a beautiful shoreline featuring soft white sand and no rocky or rough terrains. 
Moreover, the deep blue waters of the Gulf are stunning. But, do you know the best part? Your dog can also swim with you in the waters of Venice Beach.
Affordable things to do in Venice:
If you want to collect shark teeth, come to Nokomis Beach
Attend the Detwiler's Farm Market to purchase fresh products, bakery, and seafood
Enjoy some breathtaking views of the sun setting down at Venice Fishing Pier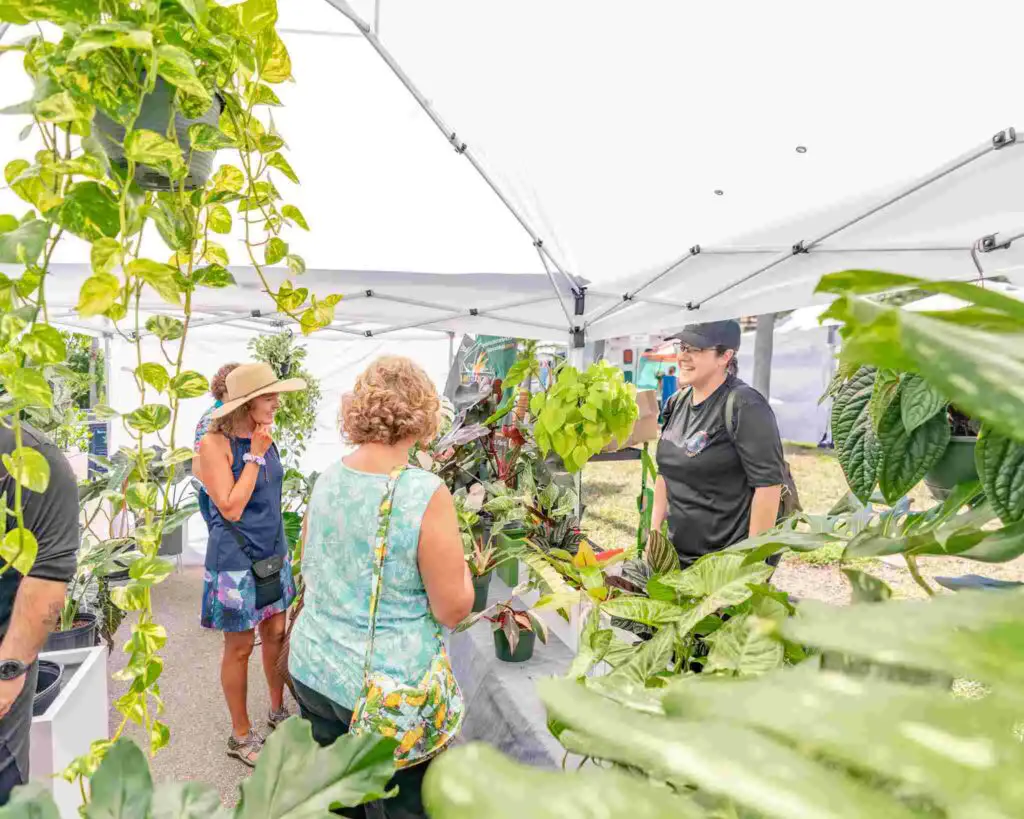 Best Cheap Florida Vacations Places
11. Ocala
With only $2,800 you can complete a seven-day trip to Ocala with your partner. It's not only one of the cheapest places to visit in Central Florida but one of the cleanest places to reside. 
I know you've heard about Ocala's large sand pine forest. But, what you've not heard about is the place offers plenty of outdoor recreation activities and clean air.
Also, you'll be shocked to see horses and ponies on the roads roaming around. If you're a horse lover, then this place should be on your list. There are some races like the Thoroughbred race that you can participate in.
I can tell you that Ocala is not like a beach destination but a rolling green pastureland with gorgeous natural springs to explore. This is a must-visit place on your Florida vacation bucket list. 
Affordable things to do at Ocala:
Swim at Juniper Springs Recreation Area, a natural pool around a dense canopy of palm and oak trees
If you're ready to spend a bit more, I recommend SCUBA diving at Paradise Springs. It's a once-in-a-lifetime experience where you can witness ancient limestone walls beneath the water
You're in Ocala and did not hike to Ocala National Forest, how can that happen? 
Stroll around the Downtown Ocala Historic Square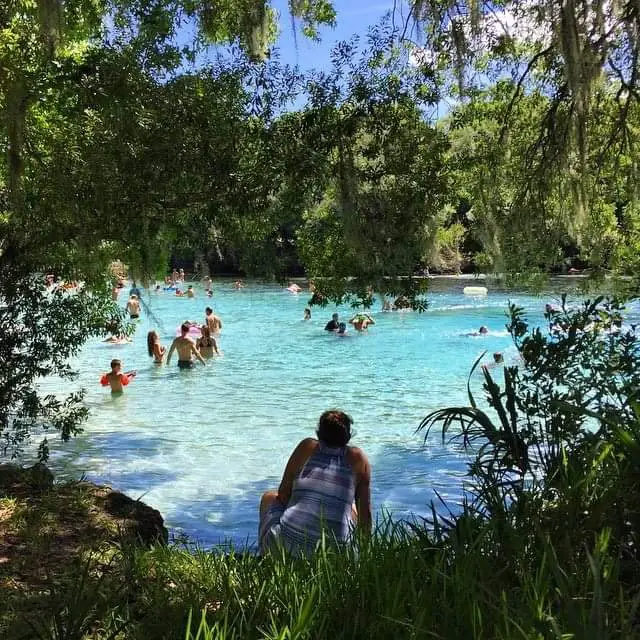 12. New Smyrna Beach
New Smyrna Beach is going to bestow you with two distinct experiences. On one side, you'll enjoy a vibrant Downtown vibe with art galleries, museums, restaurants, and café. 
On the other hand, it's a quintessential beach town, unapologetically embracing the sun, sand, beach, and very small crowd.
This low-cost Florida beach town is my favorite as here you can eat, drink, relax, and tan without worrying about anything. The life is slow and beachy-peachy! 
Also, if you're a water sports enthusiast, go for surfing lessons and create lifetime memories. I recommend coming to Cape Canaveral National Seashore.
Tip: You can park your car on the beach for just $20
Affordable things to do at New Smyrna Beach:
Go to the local market for shopping as the prices are very affordable
Take your dog to Smyrna Dunes Park
Explore 17 miles of clean beach and get tan till it makes you happy
In the evening come to The Canal Street historic district to enjoy fun games along the street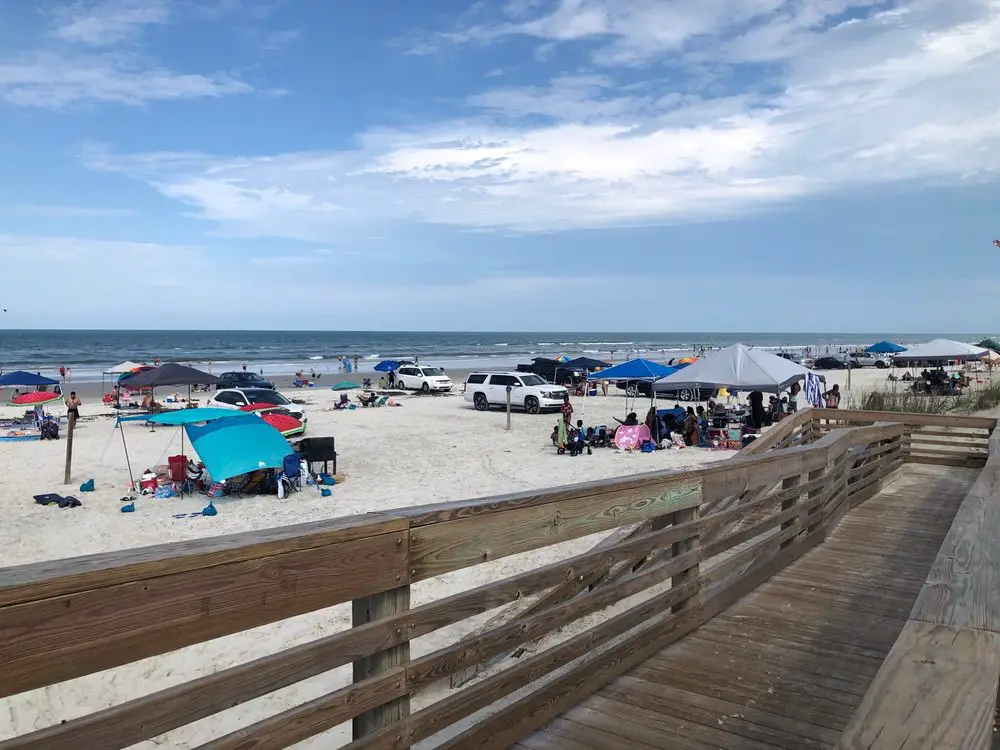 Conclusion
These cheapest places to visit in Florida have so much more to offer. I guarantee you'll find plenty to do beyond what I have mentioned.
Moreover, honestly, I believe I've painted a picture of what these places look like, and I invite you to come here and experience them for yourself.
Learn More:
FAQ: Cheapest Places to Visit in Florida
1. What are the best off-season months for cheaper travel in Florida?
A. During the late winters from January to February and from August – mid-November you can consider traveling to Florida on budget. Moreover, if you're backpacking then I recommend coming here in late September as the flight and hotel prices are considerably low.
2. What are some affordable activities to do in Orlando, Florida?
A. Come to Gatorland, where you can enjoy a nature walk, a splash pad play area, a petting zoo, and views of animals for just $24.99 per person.
3. Are there any free or low-cost attractions in Miami, Florida?
A. Come to the beach and enjoy the sun, sand, air, and the vibe!